You shouldn't live without one of the best monitors for Mac mini if you're an owner of Apple's smallest computer. While just about any display can do the job, the Mac mini is a surprisingly powerful device, especially the latest iteration with the M1 chip. The M1 version has six times the graphical power and three times the processing performance over the previous model and is capable of driving multiple high-resolution displays. You don't want to use just any panel.
This Mighty Mouse of a computer is also powerful enough to handle multi-tasking workflows and demanding creative tasks (see our Mac mini M1 review for a breakdown of the latest model). So, whether you want to take on large productivity or video-editing projects, one of the best Mac mini displays will rise to the challenge, delivering an excellent picture and resolution as well as accurate and wide colour coverage, particularly for the ones targeting creative professionals – also take a look at our guides to the best monitors for photo editing and best monitors for video editing for more options in that area.
Whatever the case may be, you'll find quality options at different sizes and prices in our guide here for the best monitors for the Mac mini. So, don't skimp on your display. Instead, make the most of that surprisingly powerful Apple desktop.
In addition, MacBook owners will find some other great options on our guides to the best monitors for MacBook Pro and the best 4K monitors.
The best monitors for Mac mini available now
What makes the LG 32UN8800-B UltraFine Ergo so great for use with a Mac mini comes down to several factors, not just one. That's because this is one of those jack-of-all-trades type panels that can do everything at least reasonably well. Whether it's that USB-C connectivity that also makes it great for use with Ultrabooks and MacBooks, its 350 nits of brightness and HDR10 support for a vibrant image, or its 4K resolution and 95% DCI-P3 colour gamut that can handle all but the most professional of editing projects, this display's feature set will meet most users' needs.
Of course, there is one particularly well-executed feature. Its ergonomic C-Clamp stand offers the kind of ergonomic adjustments that other displays can't even touch. You can pivot the panel 90 degrees, tilt and swivel as far as any other display, adjust the height to your liking, and even extend or retract it, making it incredibly intuitive and easy to adjust on the fly without having to interrupt your workflow.
There are much more affordable options out there. But, the price tag for this LG display is still accessible to all but the most cash-strapped buyer. Considering that the Mac mini itself is Apple's most affordable computer, adding the LG 32UN8800-B not only makes economic sense but offers a setup capable of just about any creative task you can throw at it.
Most monitors packed with pro features come at a premium price. But, the ASUS ProArt PA278CV is not the typical monitor. For just under $400/£400, you get the kind of display packed with everything a creative could want, outside of a 4K resolution. From its 75Hz refresh rate and Calman Verified colour accuracy of Delta E <2 to excellent colour gamuts, 100% sRGB and 100% REC 709, it's a pleasure to work on.
Of course, you have to be comfortable being limited to a 1440p resolution. And, its brightness is nothing to write home about. But that's where the flaws end. Other features include low blue-light technology, on-screen scaling overlay, and the ability to daisy-chain two screens together via its DisplayPort. It also comes with a decent amount of ports, including an HDMI, a DisplayPort, and USB-C connectivity, ideal for connecting a portable, such as a MacBook Pro. Considering the price and all it offers, this ASUS display is quite a steal.
When you think of MSI, a whole host of gaming-related products probably come to mind. But, the MSI Prestige PS341WU shows that the company can deliver what creative professionals need in a monitor. And, if your Mac mini is the centre of a creative setup, this display with its 5k2k resolution and ultrawide panel is an ideal addition.
That 21:9 aspect ratio means that you can work on a 4K project at its full size and still have plenty of screen space for all your editing tools, letting you focus on your creative process instead of trying to find the right tool to make adjustments. And, even if you're not working on an editing project, that ultrawide panel will let you streamline your workflow the way a regular panel never could.
Thanks to its 450 nits of brightness, HDR600, and 98% DCI-P3 colour gamut support, the screen is also vibrant. And, though an ultrawide might seem like a bulky affair, the MSI has a surprising amount of ergonomic adjustments so that you can swivel, tilt, pivot, and raise or lower it however you like for a more comfortable experience. There are also plenty of ports on hand for those wanting to connect multiple devices.
A small device doesn't mean you need to skimp on workspace, and the LG 49WL95C-WE has plenty of that. This curved ultrawide monitor is effectively two 2,560 x 1,440 monitors fused side-by-side into one super-screen – for those who usually run a twin-display setup, its huge size might actually save you some space, since you'll only have the footprint of one screen.
This screen provides 5k resolution for extra sharpness and details, an adjustable stand with height, tilt, and swivel controls for a perfect viewing angle and an ambient light sensor for auto-brightness and True Tone features to auto-adjust external display settings.
The Dell UP2720Q is for those who have discerning colour accuracy and connectivity needs and are seeking a pro-level monitor. Here, you get 100% Adobe RGB, 80% BT. 2020 and 98% DCI-P3 gamut support, but the crown jewel is the built-in colorimeter that's CalMAN ready. It checks its own screen regularly to make sure accuracy hasn't drifted, so you don't need to worry about it.
This monitor also adds Thunderbolt 3 hub support, so if you want to daisy chain or just have several high-bandwidth accessories to connect, it's ready to go. This comes on top of all of the advantages of the screen at number one, including a razor-sharp 4K display and great ergonomics. Alas, you've still only got 250 nits of brightness, but that's no issue if accuracy is your main requirement. The only other downside on this one is that it's more expensive.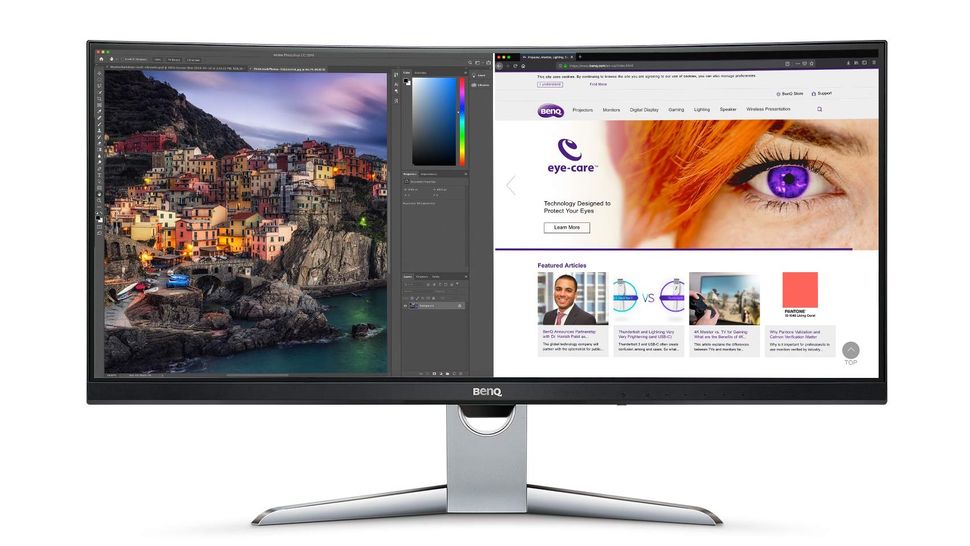 We've featured ultrawide monitors already, but they've been quite high-end. If you want the extra working space but don't need high-end features, the answer might be the BenQ EX3501R. It has some great features of its own, including 100% sRGB coverage and a refresh rate of up 100Hz if you want to also use it as a gaming display, but the main draw here is the 21:9 aspect ratio.
This is an expanded Quad HD display. At 35 inches, that provides a wonderful amount of extra space to work, although naturally, it's not as sharp as the 4K options here. With a bit of extra connectivity on board as well if you need it, this is a great option for those who need a lot of windows open but only want to use the one screen.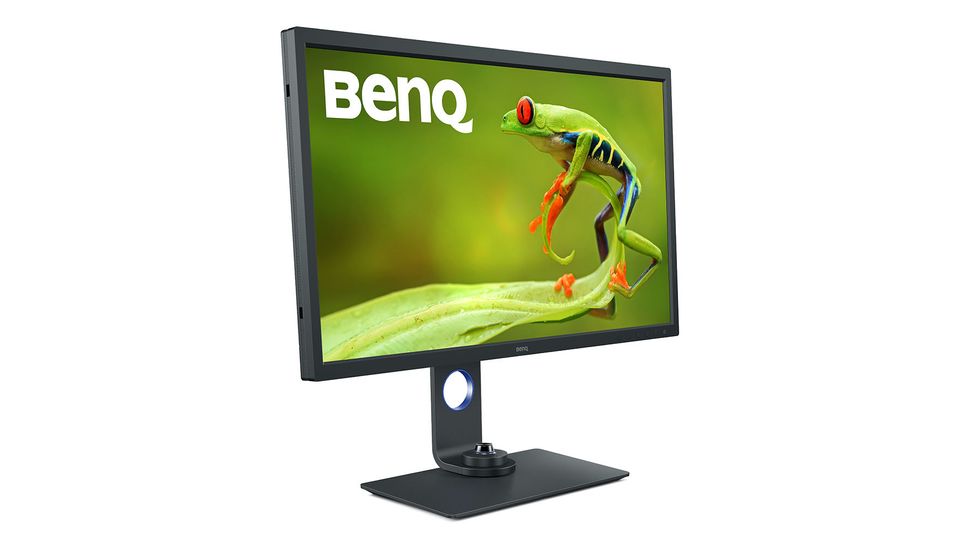 This is hands down one of the best displays for photographers, and for various reasons. The 32-inch 4K screen lets you really get in and see every pixel if you need to, or simply provides a nice big and detailed canvas to view overall. For colour support, you've got 99% Adobe RGB, 95% P3, 100% sRGB all factory calibrated, with a 16-but 3D LUT helping to maintain realistic colour gradation.
Speaking of calibration, you can adjust colour profiles on the monitor's internal image processor, without changing it in your Mac's software at all. A clever PaperSync feature that enables you to choose from different paper types, and the display will attempt to mimic what your image would look like on that material. Gimmicky perhaps, but even without it, this is simply a phenomenal screen for photographers. The low brightness is a trade-off we can live with for total accuracy. It also offers some extra connections, though they're a bit recessed for our liking.
For those who want to work with HDR video, the trouble with most monitors is the lack of brightness – you can't see what things would look like on a mid-range or better TV. That is not the case here. 1,000 nits of peak brightness puts this monitor up there with great TVs In fact, the use of Mini-LED means its localised dimming is actually more precise than a lot of TVs can manage for fantastic contrast, with hundreds of individual zones.
Its 4K resolution is also ideal, so you can really watch something at full quality here. Naturally, that means great DCI-P3 colour support (95% in this case), but 99.5% Adobe RGB and 100% sRGB coverage make it great for other work too. There's Thunderbolt 3 connectivity on board, which is ideal if you'll have RAIDs full of raw high-res footage. This monitor strikes a balance, offering excellent features for video pros, without entering the seriously high pricing of a Hollywood video monitor.
The Mac mini's svelte and portable nature makes the ideal travelling companion, especially if you're going away for a long period for work or travelling full-time. Nomadic creators aren't likely to have access to a monitor made specifically for video or photo editing, which means something like the Asus ProArt Display PA148CTV might just do the trick.
There aren't a lot of portable monitors designed specifically for content creation out there, even less that perform as well as this. And, unsurprisingly so, as this boasts 100% sRGB and 100% Rec. 709 colour gamut, and Delta E < 2 colour accuracy, which means it's just the ticket for editing on the go – short of a laptop, that is. It also comes with an incredibly responsive touchscreen and the ASUS Dial that works to simplify your Photoshop, Lightroom, and Premiere Pro workflows.
And, finally, when you're finally back in your home studio or office, this portable monitor can moonlight as a control panel, again to make your workflow seamless and let you focus on the creative part of the process.
Can I use any monitor with a Mac mini?
Unless you plan on pulling out a monitor from the last century, you can use just about any display with the Mac mini. But, since Mac minis don't come with a screen like a MacBook Pro or iMac, having versatile connectivity is much more crucial. The Mac mini M1 and its Intel-powered predecessor come with an HDMI 2.0 port and multiple USB-C ports. And, you would be hard-pressed to find a monitor that doesn't have at least HDMI connectivity.
How many monitors can the Mac mini M1 support?
The Mac mini M1 may be small, but it is quite the powerhouse, especially for its size. This little computer can drive two high-resolution monitors, thanks to that M1 system on a chip Apple introduced in late 2020. Specifically, it can connect and run a 6K display at 60Hz via one of its Thunderbolt ports and one 4K at 60 Hz via the HDMI 2.0 port. It might not be quite what the newest 14- and 16-inch MacBook Pros can do, but it's impressive nonetheless.
Are Mac minis worth it?
There's no more reasonably priced computer among Apple's lineup than the Mac mini. And, with the M1 chip on hand, it's pretty powerful as well. Of course, you need to factor in the price of your peripherals, such as a monitor, keyboard, and mouse. But, this diminutive little beast can handle just about anything you can throw at it, from working on high-resolution editing and design projects to powering through the latest games available to Mac users.
Related articles: